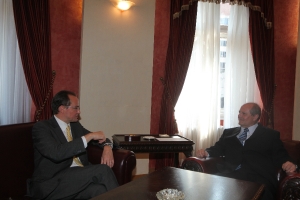 Minister of Foreign Affairs of the Republic of Serbia Ivan Mrkić met today with the MP and Chair of the Committee for European Affairs of the Parliament of the FR of Germany (Bundestag), Guenther Krichbaum.
Guenther Krichbaum, who headed the delegation comprising twenty-two Mayors from the Baden Wuertenberg Province, underlined that the main purpose of his visit to Serbia was to encourage a more intensive cooperation between the two countries at all levels. There is an intention, in particular, to promote cooperation on the local level by establishing as many partnerships as possible between the towns and regions in Serbia and Germany, in the economic, cultural and educational fields.
Krichbaum also emphasized that the German side wished to significantly promote exchange in the area of tourism, in order to have as many German tourists as possible visit Serbia in the future.
Krichbaum expressed his readiness to organize, during one of the visits by Minister Mrkic to Berlin, a meeting with the German MPs.
Minister Mrkic underlined that Belgrade highly appreciated the efforts made by Berlin and the province of Baden Wuertenberg to further promote their relations with Serbia. One of the useful specific aspects of such cooperation is the establishment and the activity of the Joint Serbia- Baden Wuertenberg Commission in the areas of economy, European affairs, tourism, finance, infrastructure, environment, culture and education.