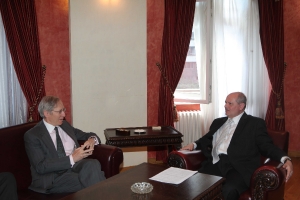 Minister of Foreign Affairs of the Republic of Serbia Ivan Mrkic met today with the new Ambassador of the United States of America, Michael Kirby, and wished him welcome and success in the discharge of his responsible duties in Belgrade.
Minister Mrkic expressed readiness for cooperation and further promotion of the relations with the United States. He informed Ambassador Kirby about Belgrade's positions concerning the current issues of bilateral relations, EU integration process of Serbia, improving relations in the Western Balkans, the issue of Kosovo and Metohija, as well as other issues of mutual interest.
Ambassador Kirby emphasized that the relations and cooperation between Serbia and the United States are based on the overall good historical basis. He expressed his conviction that these relations will be further promoted, as well as his readiness to make his personal contribution to it in his capacity of Ambassador.
Ambassador Kirby underlined, in particular, the need for attracting investments from the United States to Serbia as one of the priorities in the work of the U.S. Embassy in Belgrade.