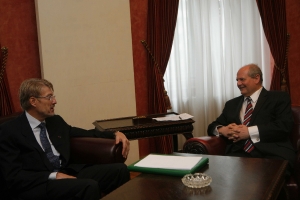 Minister of Foreign Affairs of the Republic of Serbia Ivan Mrkic has had separate meetings today with Belgian Ambassador Alain Kundycki and Armenian Ambassador Gagik Ghalatchian.
The talks focused on the promotion of bilateral relations and the possibilities to facilitate the development of economic cooperation.
Minister Mrkic conveyed his gratitude to the Belgian Ambassador for the successful organization of the recent visit to Brussels by Serbian Prime Minister Ivica Dacic. They agreed that the meetings held on that occasion were useful to both sides.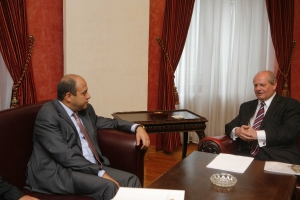 In his meeting with the Armenian Ambassador, Minister Mrkic expressed his appreciation for the consistent support of Armenia to the preservation of Serbia's territorial integrity and its sovereignty, as well as to the efforts made by official Belgrade to resolve this issue peacefully and through diplomacy. Both sides were pleased that Armenia opened its consulate in Belgrade, headed by Mr. Predrag Tomic as an honorary consul.
It was also pointed out during the meeting that the two countries had traditionally good and friendly relations, and an interest was voiced to strengthen their parliamentary cooperation.