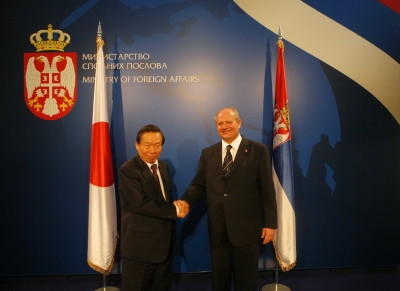 Minister of Foreign Affairs of the Republic of Serbia Ivan Mrkic has met today with Deputy Minister of Foreign Affairs of Japan Ryuji Yamane.
During the meeting both sides expressed their satisfaction with the cooperation that existed between Serbia and Japan in the past and indicated their full agreement on the further promotion of bilateral relations in all areas, especially in the economy.
Minister Mrkic expressed his deep gratitude for the assistance that Japan has rendered thus far to the Republic of Serbia, in particular for the very favourable yen grant extended for the Nikola Tesla power plant desulphurization project. Minister Mrkic was particularly pleased with the announcement that the Japanese side is considering the possibility of granting another loan intended for the project of waste water treatment in Belgrade.
The Japanese Deputy MFA conveyed the assurances that his country would continue to assist the Republic of Serbia in the future, which would hopefully lead to an increased rate of employment and improve the economic situation in the country.
Minister Mrkic was very happy that this visit took place at a time when we were celebrating the 130th anniversary of the inter-state relations between the two countries which were established by exchange of letters between King Milan Obrenovic and Japanese Emperor Meiji. In today's talks Minister Mrkic also reminisced several times his positive personal experiences during his tenure in Tokyo.