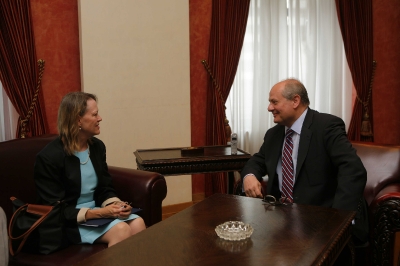 Serbian Foreign Minister Ivan Mrkic received today a farewell call from US Ambassador to Belgrade Mary Warlick and commended her personal and professional efforts aimed at the further development of the bilateral relationship between Serbia and the United States.
In meeting it was commonly recognized that the previous period had seen a further promotion of relations, particularly in terms of political dialogue, economic, defence and police cooperation between the two countries.
Minister Mrkic reiterated the Republic of Serbia's unambiguous commitment to European Union membership and thanked Washington for its support in the past. Ambassador Warlick pointed out full support of the United States for Serbia's European road.
Minister Mrkic also conveyed his condolences at the killing of Ambassador Christopher Stevens and three other US Embassy staff in Libya.
In the end, Minister Mrkic wished Ambassador Warlick success in her professional engagement in the future.