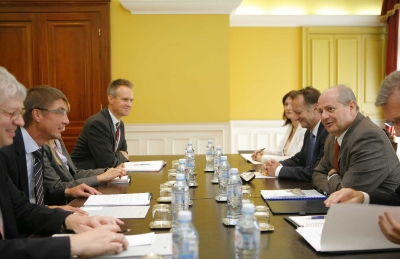 Serbian Foreign Minister Ivan Mrkić met today with the representatives of CDU/CSU Parliamentary Group in the Bundestag, headed by Andreas Schockenhoff, Deputy Head of the Group and Hans-Joachim Falenski, Foreign Policy Advisor.
During the meeting, they touched upon issues like the further relations between Serbia and Germany and the EU integration process of Serbia. Minister Mrkic pointed out the unambiguous commitment of the Republic of Serbia to its membership of this organization and briefed his interlocutors on the activities the Serbian Government had undertaken to meet all the criteria necessary to open negotiations with the EU, including the implementation of all agreements reached in the dialogue between Belgrade and Pristina.
Minister Mrkic stressed the need for preconditions to commence negotiations with the EU to be objective, clear and not to be expanded any further, and in this context emphasized the importance of cooperation with Germany, saying that it is necessary to take into account the specificities resulting from the history and position of Serbia.
The German parliamentarians explained the views of their Group relating to the fulfilment of the requirements to start accession negotiations between Serbia and the EU, and said that in this regard they had the same expectations from the new Government of the Republic of Serbia. Schockenhoff and Falenski particularly underlined the support of their Parliamentary Group and the Bundestag as a whole within the EU enlargement process, as well as the importance of the role played by Serbia in that framework.