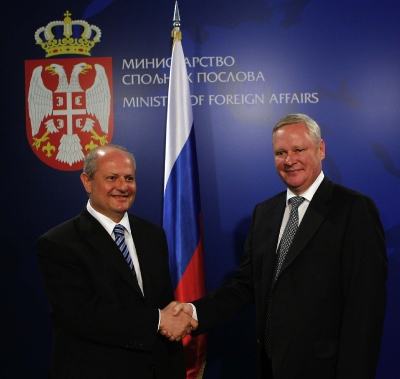 Minister of Foreign Affairs of the Republic of Serbia Ivan Mrkic met today with Deputy Foreign Minister of the Russian Federation Vladimir Titov.
The main topics of their talks concerned an all-round bilateral cooperation between Serbia and Russia, where they commonly agreed that relations between the two countries were friendly and developed and that there were no outstanding issues, expressing at the same time their readiness to strengthen them in the future.
Minister Mrkic conveyed his gratitude for continued Russian support to the efforts made by Serbia to preserve its territorial integrity and sovereignty.
Minister Mrkic and Deputy Minister Titov expressed their satisfaction with the meetings between Serbian and Russian officials in the past and looked forward to the forthcoming meetings at the highest level.
During the talks, they noted the readiness existing on both sides to continue to deepen their economic relations further, and stressed the need for signing a package of agreements which would facilitate the expansion of cooperation in all areas.