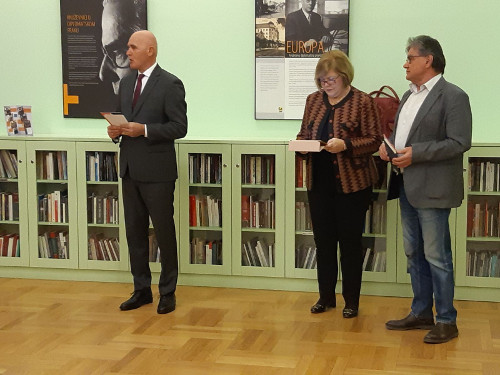 At the initiative of the Serbian Embassy, the exhibition entitled "Ivo Andric – a Writer and/or a Diplomat", dedicated to the diplomatic career of Ivo Andric and his corresponding collection of literary works, was opened in the grand hall of the SKD "Prosvjeta" Library in Zagreb, on 21 February.
In her opening remarks, Ambassador Mira Nikolic narrated Ivo Andric's diplomatic career. Andric's collection of literary works and the importance of the language he employed was discussed by Professor at the Department of Serbian Language of the University of Zagreb Dusan Marinkovic.
Following the opening remarks, actor Tihomir Stanic read parts of the novel "The Bridge on the Drina".