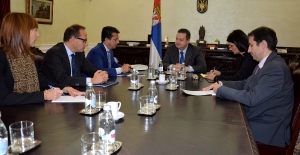 First Deputy Prime Minister and Minister of Foreign Affairs of the Republic of Serbia Ivica Dacic received today Andrea Oritio, Director for the Balkans in the Ministry of Foreign Affairs and International Cooperation of the Italian Republic as the envoy of the Minister of Foreign Affairs Federica Mogherini, who will take part, as Special Representative of the Italian Presidency of the EU, in the informal Meeting of Ministers of Foreign Affairs and Ministers of Economy/Finance of the Western Balkans, which is being held today in Belgrade.
The interlocutors expressed satisfaction with the high level of bilateral relations. Minister Dacic thanked for the continued support of the Italian Republic provided to the Republic of Serbia in the European integration process. Oritio confirmed that Italy would continue to support Serbia on its European path.
With regard to multilateral cooperation it was concluded that the OSCE Chairmanship by Serbia was, among other things, important to reaffirm Serbia's role as a factor of stability in the region and a credible international partner.
The meeting also addressed the issue of cooperation within the Adriatic-Ionian Initiative. The importance of joint cooperation in the framework of the EU Strategy for the Adriatic and Ionian Region was stressed and a formal invitation was handed over to Minister Dacic for the launch of the Strategy on 18 November in Brussels.